As I sit here at the keyboard with tears running down my cheeks, I feel as if I were in an infomercial for a vacuum pack machine, because my insides feel just like that…as if my heart lungs and everything else has been vacuumed packed so tight that it hurts. Praise music going in the background consistently singing choruses of God's goodness, His character, His mercy, His Strength, His grace, and His love…. Reminding my spirit that all things work together for the good of those who trust in Him…..
Thursday morning we received a call, a devastating call, telling us that our nephew, a vibrant healthy energetic little boy had passed in his sleep.
Never in all my life did I ever expect such a call. I kept thinking that this was a very bad mistake; surely they didn't know what they were saying.
I sat stunned; all I could do was pray as my husband held his mother, the child's grandmother. Being a grandmother myself, my heart broke….
This was her baby's baby. A grandchild is such a marvelous thing, it's an extension of your own child, the legacy that family trees are made up of, and they touch a deep place in your heart. How could this be happening…..
As a momma to ten, having small children still at home I was shaken.
As an aunt I thought of all the missed opportunities and as a sister in law my heart just shattered for the parents, my brother in law and sister in law.
It's been a couple of days since the funeral and there doesn't seem to be a moment that goes by that we are not praying for our brother in law and sister in law and niece and nephew.
We know God is faithful, we know God will get us through. We know this will be a process and that the grief will come in waves, yet there is no doubt in my heart that in the grace and mercy of God we will get through this.
Even when it seems that we will be swallowed up, we know God has placed us in the hearts of many.
We know that there are people praying for us and standing with my family, that is the amazing thing about the family of God it knows no bounds, it is not limited by state lines, countries or continents …..and it's these prayers that are carrying us through.
I don't think anyone ever faces something this tragic without learning some big things…
On the day we got the call I had sick children at home, my husband headed out of town with his mother straight to his brothers home, and as much as I wanted to be there I knew I had to take my kids to the pediatricians. Upon arriving at the Dr's I found out that our family insurance plan had somehow mistakenly only covered 3 of my 8 dependents….
As I was on the phone with the insurance company insisting that my family coverage should include everyone not just a few featured children, I suddenly realized that I could do nothing to fix this mistake since the policy was in my husband's name. This was so aggravating!!
I could feel myself getting snarky…. and immediately all I could think of was that this little fellow on the phone had NO idea that this had already started off as a very difficult day.
The next thought that ran through my head was how many people in the course of my life have been snarky with me to the point where I have actually taken offense and been snippy back without even giving grace.
Suddenly the thing that impacted me at that moment was that we never know what others are facing or why they react the way they do.
We NEVER know what people are going through.
Their snippy-snarky responses could be because they are trying to hold it all together.
Maybe they had been faced with a similar situation to the one I was facing, maybe they had gotten a bad report at the Dr.'s Office, maybe they had sick kids and hadn't slept in a long time……
At that particular moment I needed the fellow on the phone to extend grace to me, and he did. Yet, all I could wonder was how many folks in my lifetime have I not extended grace to…….
We should always extend grace, we should never repay evil for evil or snippy with snippy because we have NEVER walked in the shoes of those we come in contact with.
On Thursday night as the evening was approaching I was again impacted. On most days as bedtime approaches I almost always am glad to see the day coming to a close…. I am usually so exhausted by this point in my day that I actually find myself counting the minutes till the clock strikes eight.
Please don't misunderstand I love being a mom but after teaching all day and instructing my children all day and refereeing and chauffeuring and cooking and cleaning…..I am ready to sit quietly and enjoy a moment of silence.
I will say that on that Thursday I had to think about the bedtime routine in our home and what it had become.
I realized that often if the kids are squabbling at the end of the day, and I just hush them and send them to bed with unresolved issues. I realized that often I rush the ending of the day.
I felt like the Lord was whispering to my heart so many little lessons. The end of the day should be a time of peace and love. It should be a time when all the days' issues should be resolved. Ephesians 4:26 tells us not to go to bed angry. I knew that scripture, but had never really pondered it. The reality that we are not promised tomorrow drove home the importance of resolving all things with everyone before the passing of the day. My kids need to know the importance of resolving their squabbles before drifting off to sleep for the night. My kids need to go to bed ending their day on a peaceful note not a rushed note. The end of the day is exhausting but I realized that I was "clocking out for the day" a bit prematurely…..
One final thing that impacted me that day was all the missed opportunities. Not in a self condemnation kind of way, but more in a realizing that so often we put off for tomorrow what should have been done today kind of way.
We all have a realm of influence. We have people God has placed and positioned in our lives and we can make a difference in their days if we choose to.
I have had to pause and ask myself am I truly impacting others. Am I being all I am suppose to be, or do I get busy and miss eternal life changing opportunities?
I think when we realize how fragile life is, once we get a glimpse of how quickly life can change and when we are exposed to the finality of it all we realize each second really does matter.
I am challenged not to put off for tomorrow what I can do or say today. I am challenged that when the Lord brings someone to mind to immediately pray for them, or text them or send them a message of some kind.
A kind word or a simple acknowledgement means so much and it takes such little effort and so little time yet these are the things we procrastinate because of our schedules or agendas. I never again want to be so busy that I am too late.
When my little daughter Riley looks at me and I see the hurt in her eyes as she tries to process what her cousins Bailey and Luke have to walk through, I am moved to tears. She understands at eight years old the importance of the bond that joins siblings. Family is quirky, siblings can be as different as night and day but it's important to remember these are the people that God joined us to first.…
I think we will forever be reminded of the importance of family and friends, and how without God and each other this would be unbearable. I am forever changed, my family is forever changed. With time the hurt will heal but I don't think we will ever be the same. I don't think we will ever again view life casually or take it for granted again.
So today I remember my little nephew.
In such a short time he impacted so many.
He will forever be loved and remembered…..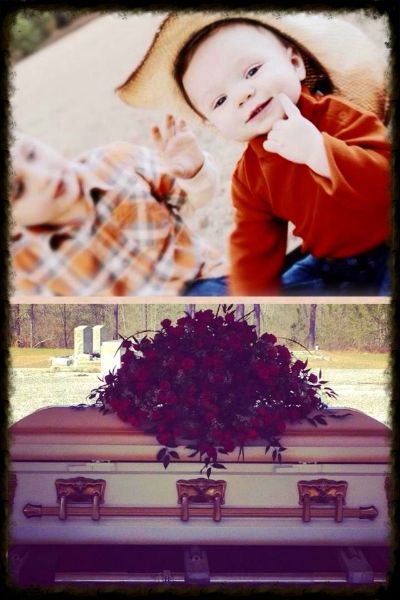 Comments
comments