Its a rainy Monday morning in my neck of the woods. I am sipping hot steamy coffee and thinking back over my weekend. It was a busy one, full of activity, fun, and tons of rain!!!
I never realize how unconventional my life is until I start to jot it down. We live in a small 1700 square ft home and when I say we use every inch of it I am not exaggerating! As I sit here sipping my coffee I have to laugh, because regardless of how small my home is we always tend to have a zillion people crammed in here,beyond the normal zillion that live here….so I guess we always have 2 zillion crammed in here *smile*!!
The children have all been studying the Revolutionary war and as a last minute idea I decided our final week of study should end with a bang! So I began trying to put together a colonial fair….
Years ago, there was a family that had two boys, and they home schooled.
They were veteran home educators and I was only toying with the idea of starting this crazy venture.
This mom was an encouragement to me and seriously influenced me to home educate in a fashion that would give my kids a complete hands on learning experience. While I was thinking about this colonial fair idea, I suddenly remembered that she was a spinner…..I contacted her and she graciously accepted an invitation to come and teach the children in my history coop all about spinning. She even asked if she could come in character…..
I started getting excited this could be so fun!!!
Next on my list was my sister in law, she likes all this time period stuff and her grand kids are in my history coop…..(YES I DID USE THAT TIDBIT TO Manipulate ENTICE HER TO SAY YES) (wink, wink) I am teasing about having to entice her, because she is a good sport, and loves stuff like this! But, I really did mention her grand kids, and her nieces, and nephews simply as back up…..
She agreed to come in time piece clothing and to teach on natural dyes.
I started thinking of other people I knew, and decided that my friend that has an all natural soap business would be an awesome addition to our fair….
She too, was so gracious to accept the invitation, and she agreed to come in costume IF I would dress up too….fair enough!
In my imagination we would set up stations around our property, my boys wanted to build a brick oven and cook colonial bread outdoors and we would find enough turkey feathers for the kids to each make a quill….. American Ballads would be booming across the yard and every thing would be red white and blue….We would have a colonial time period dinner and memories would abound!!!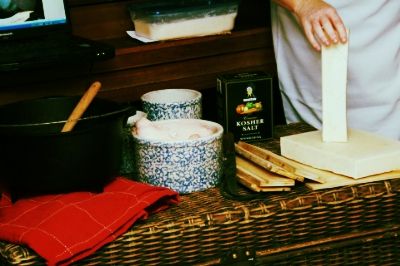 As the week progressed and 100% chance of rain was in the forecast I realized we needed a plan "B". I started to move kids toys out of rooms and move furniture around and create stations indoors.
I was determined that the colonial fair was going to happen, even if we all ended up sitting in each others laps to watch the presentations!
Friday came and it rained like crazy, but we were all dry and cozy indoors…
The Den was our Spinning station, the Kitchen was our colonial lunch/ natural dye station, the living room was our soap station…and the whole house buzzed with conversation and fun….and thirty something people all enjoyed themselves, or so they said.
Every week the children give a presentation on the topics covered and so we started with that then we migrated to each station. So, although we had no ballads playing, no quills and no brick oven, and our fair was minus red, white, and blue buntings and streamers, I still think we created a memory and learned a great deal!!
Once again, my kids decided to make a video about what they had learned….
Comments
comments