So its Valentines day…..
I must admit I have learned so much about Love and Life today as I watched my children……
I have a habit of building up excitement over the smallest stuff and Valentines day was no exception….at 4am the kids were up wanting to know if they could go read their valentines…it was Christmas morning all over again minus Santa Claus, a tree and a stocking…….
The Sheer excitement was cute yet a bit much at four in the morning!
I had set the table with my china and I had hand written them each a note, they were so excited! It had the makings of a great day and really it was!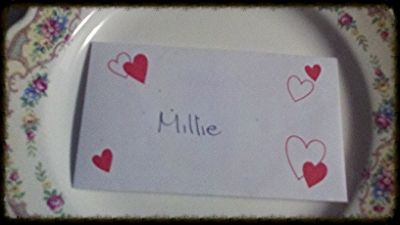 Yesterday evening my husband surprised me with purplish roses….they were so beautiful!!
I rarely get flowers so this was such a special treat!!
I must however share a funny story about flowers, long ago Sam our 6th child decided that my favorite flower is a yellow rose, so if he and his daddy would ever go shopping for flowers he always insists on getting me yellow roses. So when my dear husband surprised me with purplish roses Sam shook his head at his dad and said: "she is going to be so disappointed she only loves yellow roses…" He couldn't believe his dad didn't even remember that one small detail……
Here is the actual fact on the yellow rose….
I have no idea how or why the yellow rose was dubbed my favorite color rose because for starters I am not a big fan of the color yellow and yellow roses although pretty enough are NOT my favorite…my favorite is a purplish rose but my most favorite of all is a coral-ish/peachy color rose. My darling husband was unable to find a peach colored rose and so he opted for my second favorite color the purplish rose.
Long ago I told my husband that I didn't have the heart to tell Sam I disliked yellow roses…
I had already resolved myself to the fact that even after I died I would only have yellow roses on my grave if Sam had any say in it, and forever the yellow rose would be "my flower" even if I didn't like it because I was NEVER going to tell that little boy I didn't like yellow roses when he made it such a point to remember that was my Favorite.
Any way my poor husband rolled with the punches and over looked our sons disappointment by trying to tell Sam that I had a new favorite color….
Sam wouldn't buy it he just shook his head and said "Mom is too nice to say she doesn't like purple roses….she will never say she can't believe you didn't buy yellow she will cover up by saying she likes purple…but Dad she likes Yellow roses you should have gotten the yellow ones…."
My husband and I couldn't even make eye contact with out cracking up every time someone brought up my favorite yellow roses!
I assured Sam I was happy with my roses but I feel sure he went to bed thinking I was just faking it…..
This morning over heart shaped pancakes and mountains of love notes from the children the topic of the silly Yellow Roses came up AGAIN…..
I finally looked Sam in the eye and I had to tell him…
"Listen Sam" I said, "I don't like yellow roses I don't know why y'all think I do, my favorite roses are the peachy colored ones and second favorite are the purple ones I really don't like yellow anything!!!" It took some convincing but finally I was able to drive it home. Later everyone had a good laugh over the whole thing! No one knows exactly why they all thought I was fond of yellow roses but now everyone knows YELLOW ROSES ARE NOT MY FAVORITE!
It has been truly very liberating to have that out int he open!
Sam, did ask me why I never said anything, to which his dad replied "Mom is too nice to say she doesn't like yellow roses…."
Over all it was a nice day simple but nice…and as for my mountain of love notes they were taped on every window, counter and wall…
They were very eclectic and written on any and every piece of scrap paper found in the house…they would never make it on pinterest or a Martha Stewart's valentine segment if she has one…..
But they are precious and priceless to me every single one… even the sweet one my hubby made me!!
Comments
comments