As a child I grew up without television.
Whenever I tell my children this, they always ask "was television even invented back then?"
I always have to assure them that television was invented, but my parents were of the belief that television crippled your imagination and stole your family time.
As a result of not having a T.V. my sister and I became avid readers!
I still LOVE a good book and read all the time.
As a child I remember times when we would be riding home on Sunday evenings after having visited with cousins all weekend. It was a long car drive home. Late at night after my brother and sister would drift off to sleep my dad would turn on the radio, it was an AM radio and the reception was terrible especially in the evenings. However, if we were lucky we could sometimes catch a story telling broadcast. These stories were usually mysteries. The reception was so bad that sometimes at the most exciting part of the story you would lose signal and be left with nothing but static. These occurrences usually left us no choice but to invent the ending of the story for ourselves. I loved these radio shows. I was always captivated not only by the storyline but with the voices of each of the characters as well. They always enthralled me and helped create vivid images of each drama in my mind. These radio programs impacted me with the importance to read and speak clearly. It taught me that each character had a voice, a personality and unique mannerisms, a good reader could relay all of these traits with their voice. After listening to these shows I wanted to be that kind of a reader.
Fast forward to the year I was in fifth grade Ms. O'Neils class….
Ms. O'Neil always read to us. I remember reading time so vividly!! She was an awesome reader and kept us all interested with her voice. She was really good at having a voice for each character and knew exactly how to emphasize certain words as a chapter was coming to a close, leaving the whole class wanting more of the story! Her love for books was definitely contagious, and she definitely influenced me greatly with each story she shared with my class that year! She taught me that as you share a story with a group, you spin a web that draws that group together, it creates a lasting common thread among each listener that may not have existed had they not shared in the same story.
Fast forward once again to the year I had my first child….
It was so important to me that he love books as much as I did! I joined several book of the month clubs and received numerous classics in the mail. I spent many hours reading to him and later as more children came I would read to them as well.
I still read aloud to my kids. I try to make it part of our evening routine. We have had so much fun during these times! Sometimes I let them pick out a book, other times I pick something related to what ever we are learning in school, and then there are times that I randomly pick something up at the library and we go with that. I am always pleased to see that even my big kids join in our read aloud time. I remember a day last year when my oldest son (who is married and a daddy himself) dropped by the house while I was reading to the children. I remembered looking up from my reading and he just seemed to be lingering around. I teased him about listening to my story and he said "yeah, it just never gets old listening to you read."
That was one of the most precious things he could have ever said to me, it really warmed my heart!
Lately we have spent our evenings reading a very familiar and endearing book, we have been reading A.A. Milne's Winnie-The-Pooh.
I am not sure how Winnie The Pooh made it as the first read of 2013 but it did.
I have to admit we are more familiar with this character from cartoons, and movies then story books.
We have never read the book aloud before now, but we are all enjoying it.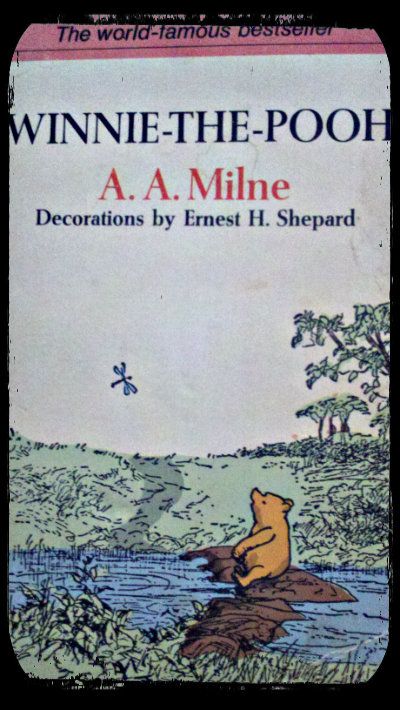 It is funny how we all know certain "Pooh sayings" such us "Tut Tut it looks like rain"
(that's the phrase from when Winnie the Pooh was trying to deceive some bees into thinking he was a rain cloud…..)
The kids can all recite, in a pretty good Pooh voice, Pooh's usual response to a difficult situation:"Oh Bother",
and we all mimic Christopher Robin's voice quite well as we go around saying "you silly old bear".
It has been so enjoyable to share this story with the children. Our familiarity with the character, knowing what Pooh's voice sounds like from cartoons and movies, and knowing his personality along as the personalities of all his friends makes story time feel more like we are reminiscing than reading. It has the same feel as when we tell old family stories. I am amazed at how a sixteen year old can enjoy this book as well as a four year old. It is genuinely an endearing experience to share this book with my children.
Reading aloud to your children has so many benefits! I helps children develop better attention spans, it builds their vocabulary, it helps develop an interest and love for books and reading. Reading aloud encourages creativity and imagination, it also offers your child exposure to different situations, cultures and time periods. When we read, we discover the personalities of different characters,encounter different scenarios and discover new places. All of these things are vital for developing inquisitive children, that have a love for learning. What I love most about reading aloud is the bond it gives us as a family. It allows tremendous opportunities to learn, discuss, and grow together as we unite and share in the same story line.
Reading stretches our imagination and at times changes our outlook. If you don't already read to your family, let me encourage you to make 2013 a family read aloud kind of year! You will be blessed!!
Comments
comments