As a little girl I remember my mother being the most thrifty person I had ever met! She was teased for re-using her tea bags for her afternoon tea. She washed used tin foil and reused it until you just about could see through it. Ziplock bags were a luxury so on the rare occasion that we had any she would wash and reuse those. Bread bags were washed dried and kept as well. I really could go on and on with all the things my mother would use and reuse. She wasted absolutely nothing and she reused everything! She was not a pack rat she was a visionary, she could always see multiple uses for a single item and also find ways to save by reusing items most people would toss in the trash.
As cool as it is nowadays to recycle and reuse it was just that UNCOOL to reuse stuff when I was about twelve. What I didn't realize back then is that my mom was teaching me valuable lessons on stewardship!
Of course no one could have predicted back in the day that I would grow up and have a large family.
I wouldn't have believed it if you told me that I would use and reuse things in my adult years and that I would be creative in finding multiple uses for normally discarded items. I would have actually laughed at the idea!
Reality is that I have turned into the "USE AND RE-USE GIRL"…..
Who knew that when I got prescriptions filled at a Walgreen's pharmacy and they gave me my medicines in a red and clear ziplock baggy that I would save those and fill them with misc.items and stick them in my purse so that I would have things to entertain my children in waiting rooms, car rides or during church services. These baggies are awesome for crayons, scraps of paper, legos, matchbox cars, Polly pockets and even game pieces or a deck of cards.
Who would have imagined that my discarded coffee canisters would be turned into school supply holders, One holds crayons, one for pens and pencils one for scissors one for glue and one is for rulers (that one is always empty because for some reason rulers like to play hide and seek around here)….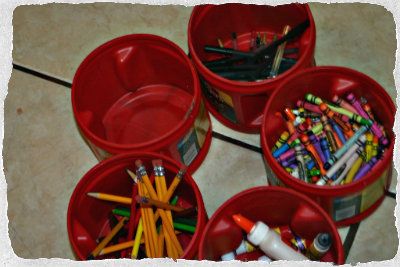 I don't just limit my "use and reuse" to containers and bags…I carry it a step further. Where most people see "left overs" as a rerun of the previous meal I see it as the first step to a new dinner….
Pinto beans and rice on day one.
On day two this same entree with the assistance of a blender becomes bean burritos,and then bean dip and nachos on day three……
Nothing is wasted nothing is thrown away.
If I get tired of creating new things I throw the left overs in a bag and freeze them only to pull them out again on a day that I am really behind and need a precooked meal.
Left over coffee in the pot is frozen into coffee ice cubes to be used in homemade milkshakes and frappuccinos.
Left over rice can quickly be turned into a pan of re -fried rice. Just saute onions in a pan add in a bag of broccoli and some shredded cabbage once the veggies have wilted add the left over rice, a few shakes of granulated garlic and some soy sauce stir constantly. Oh, and if I ever have left over scrambled eggs I throw them into this "MaMajil fried rice" creation.
Soured milk can be used to make buttermilk biscuits, left over meat can be used to make fajitas or soup….the opportunities to reuse and recreate are endless!
All this brings me to this morning when I discovered a large collection of bread in my pantry…One package of hamburger buns with 1 lonely somewhat stale bun, a baggie with left over dinner rolls from the weekend, a loaf of bread a child decided to defrost in the microwave that was a bit too dried out for sandwiches, and a loaf of french bread that was a bit dry too…..this dry bread will be transformed into croutons.
My kids love salad and croutons are easy to make!
First I cube up all my leftover and discarded bread. We really do have A LOT of it today!
In a large frying pan over low heat add a couple of tablespoons of olive oil add your bread and start stirring it around so that it is evenly coated with olive oil. Move quickly so that it doesn't absorb the oil on one side only. Add generous amounts of granulated garlic and onion powder, season salt and what ever other herbs and spices you like, I like using spaghetti seasoning in mine. Keep tossing and stirring until it is all dry and crunchy like a crouton. Let the croutons cool completely and store in an air tight container or ziplock bag.
We also use these home made croutons for dipping in spinach dip or hummus. Homemade croutons are an awesome alternative to crackers. My kids love them!
One final note on leftover bread if you find some that is very dry you can run it through the blender and make homemade bread crumbs I add garlic powder, spaghetti seasoning and season salt to mine and it makes an herb bread crumb mixture.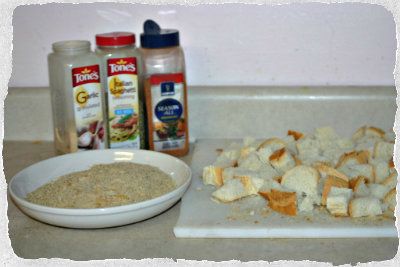 As I type this my teenager is peering over my shoulder reading my post. I hear her chuckle as she says…"I never realized we reused so many things"…… for her this is the norm.
In the new year I have challenged myself to find more and more ways to reuse and recycle. Finding new uses for old items is not only a challenge its a great example of good stewardship for our kids!
Comments
comments