In our home cooking is a daily affair….Breakfast,Lunch and Dinner!
I enjoy cooking but usually what I fix is in large quantities and although I will admit that my cooking has always gotten good reviews in the flavor department, it lacks in gourmet style and presentation. Usually I am cooking ten to twenty pounds of meat, fifteen pounds of potatoes, and a veggy…you know those huge bags of veggies the ones that are the size of a sleeping bag and can only be purchased at food clubs that is usually what I fix for one sitting. The quantities are huge and so I serve it up in commercial size steam table dishes…not so beautiful!
The one thing I will say that I make that LOOKS semi-impressive is a very simple dessert called flan.
Flan is a Spanish custard that is topped with a sugary caramel syrup. I really only make this about one time a year, usually after Christmas when our dear friends from North Carolina come through town for a quick visit. They LOVE this dessert so I make it special for them.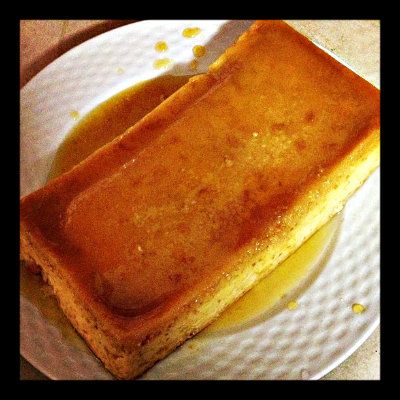 +
To make it you need 4 eggs, 1 tsp vanilla, 1 can evaporated milk, 1 can sweet condensed milk, 1 can coconut cream, and a pinch of salt. Beat the eggs well, and add the different milks, salt and vanilla. Mix all these ingredients together and set aside.
In a double boiler melt 1/2 cup of white granulated sugar (be careful this syrup is hot, sticky and dangerous if you spill it on you) once the sugar is melted I pour it into a metal loaf pan and roll the pan around so as to coat well with the melted sugar. Once your pan is well coated pour in your milk and egg mixture.
You are going to want to cook your flan in a water bath. A water bath is just a pan of water placed into an oven. The hot water provides a constant, steady heat source and ensures even, slow cooking. This also prevents your flan from cracking.
Set your pan with the flan mixture into a pan filled with water (a roaster pan works well for this, or a glass Pyrex pan) place them in a preheated oven and bake at 400 degrees for an hour or until the flan is set and a knife comes clean when you gently stick it into the dessert. (test it in the same fashion you test a cake to see if it is done) let cool completely and then run a knife along the edges of the pan prior to flipping onto a platter. The melted sugar will pour out as a syrup.
Make sure to wait until the flan is completely cooled before flipping if you try flipping it when it is warm it will break. *It really does best if made the night before you are actually going to serve it.
The finished dessert can be garnished with whipped cream but if you don't have any on hand it is pretty enough to hold its own right by itself. You have to try it, it definitely looks much more difficult and fancy than it is!
Comments
comments